Though this year's holiday decor was inspired by 1) missing Alaska and 2) Target's faux birch winter decor, I've kept a traditional red vignette in one corner of the dining room, and it's a favorite of my children! With textural pip berries, Shannon's Mr. and Mrs. Claus shelf-sitters, and various candle votive holders/sticks tucked away into an old tool box, not to mention two more Santas keeping the whole scene company, all I need to do now is bake some
gingerbread cookies
or
cake
to get that *smell* of Christmas in the air to complete the effect.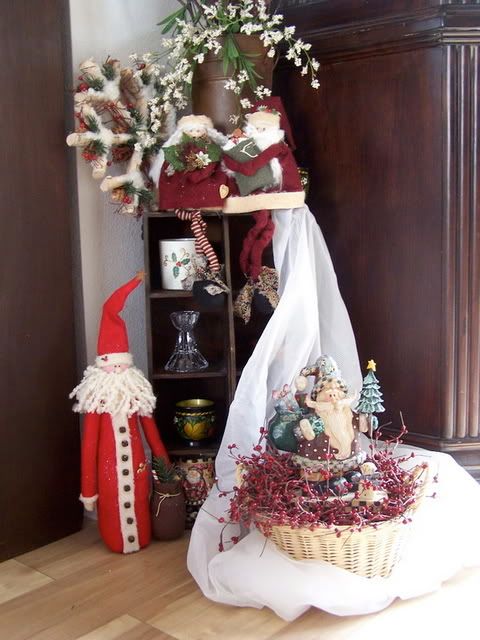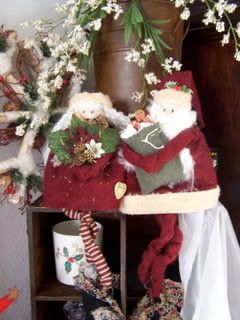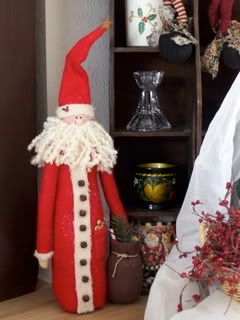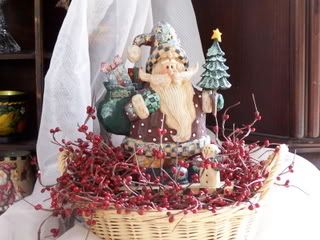 The stand-up felt Santa was purchased by me in Alaska at a holiday bazaar (do they still have the UAF Women's Bazaar each winter?), the Santa in the basket was a figurine given to me by a former student, the shelf sitters are from
Shannon's Angel Kisses
, the faux birch snowflake is from
Target
, and two of the candle votives were gifts from students, the crystal candlestick from my mother-in-law, and the
Russian lacquer
cup from my own collection. The white flowing "snow?" An extra curtain sheer we're not using this year.
See you tomorrow for the next vignette, it's time for my family to sign Christmas cards! Happy holidays!