October 26, ten a.m., on the field during recess duty.
Mukluks made ~decades~ ago by my aaka (grandmother). Certainly not ruby slippers, but just as treasured.
I wore them as part of my "costume" for Book Character Dress Up Day. I was "Mama" from
Mama Do You Love Me?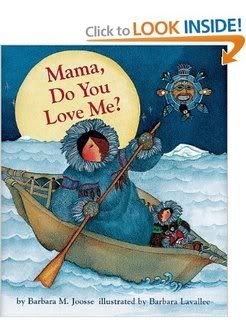 In Alaska, my garb wouldn't have been given a second glance, but here in Kansas, friends, colleagues and parents were either eagerly curious or they politely attempted to not stare, not look at all.
Why ~does~ something culturally different make us uncomfortable?