It's transition time: the Christmas ornaments need to be taken down, wrapped, and put away until next December, and the house will become relatively calm again until most likely, spring break, when we have a family trip planned.
Between the baking, wrapping, cleaning, unwrapping, eating, cleaning, laughing, Wii-ing, re-arranging and cleaning, I've managed to schedule in some visits to several antique malls, wandering their aisles wondering what treasure (Marcrest? Individual salt cellars like my great-grandmother's? Photos of adoptable ancestors? Old slide rulers, game pieces and story books?) I might find. As much as I might like the idea of sleeping in, it takes much longer for my body to switch gears and alter its internal clock, so I've been out of bed by eight, no matter what, every day of break.
(photo from
"Totally Target: Christmas Clearance Update..."
)
I've also hit the after-Christmas sales, oh yes. While it's true I've found great deals on goodies for NEXT Christmas, after-holiday and clearance sales have also been great places to find crafty items and decor for classroom use. Ah, the ~inner teacher monologue~ as I walk up and down each store's clearance sections:

Oooh! Red works for Valentine's Day!


And green! St. Patrick's is just around the corner!


Look! Snowflake shaped paper garlands! On clearance! And we're learning about winter, so it's curricular!

Sad, sad, I know, but honey, I *own* my inner teacher monologue!

Teacher Tip: Track down traditional (and solid colored) red and green tinsel, tissue paper, raffia, bags, and even ornaments for Valentine's and St. Patrick's Day decor, bulletin boards and art projects.
White and silver bulbs and tinsel work beautifully in January, when many students are enjoying learning about winter, and don't put away those white twinkle lights until the snow melts!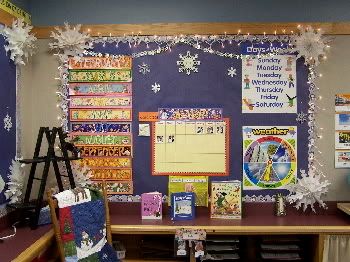 Non-traditional colored tinsel and garland in pinks, blues and purples add a fun touch to spring or patriotic displays and crafty art.
Red pony beads and pipe cleaners used for candy cane ornaments in December can also be used to
make valentine hearts
...
... and yes, buy those holiday pencils, erasers, and treat bags NOW, at 75% off. Put them away, though not TOO far away, or else you won't be able to find them next December when you'll need to find them quickly between your students' Christmas program rehearsals, class parties and end-of-semester report cards. Are you wanting a classroom table top tree? NOW is the time to purchase one, unless you're a gifted yard sale shopper or know someone who is!
Ah, retail therapy... for the classroom.
*wink*