Parents donated rice, fabric, faux fur, sunflower seeds, aluminum foil, cotton balls and dry pasta so that the Super Stars could add texture to their colored turkey feathers!
We painted wet glue onto the colored tag board and added bumpy, smooth, fluffy, bristley, crunchy and pokey details: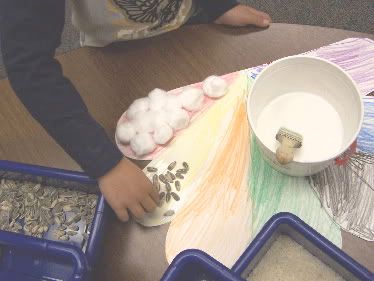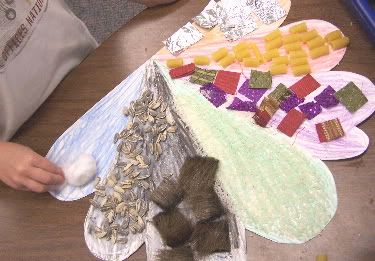 We used a hole punch at the back of each turkey's head, ran a pipe cleaner through the holes and then tied them through a small hole made into the center of each tag board sheet (
click here
for directions on how to make the turkey body):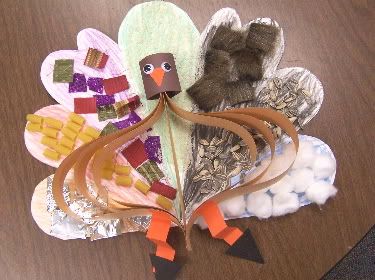 Gobble gobble gobble!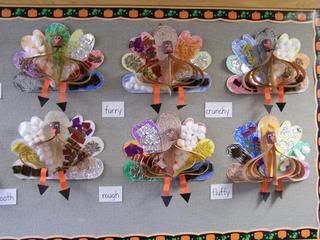 *****
It's easy to make a turkey-riffic display for Veterans Day too:
I found a cute turkey stamp, blew it up using an overhead projector, and traced and colored it on plain white paper. I used a hand-shaped die cut to make red, white, and blue paper "feathers" for the turkey, but it would be fun for students to trace their hands instead. Laminate the turkey for future use, and then add a small flag, securing it with clear tape.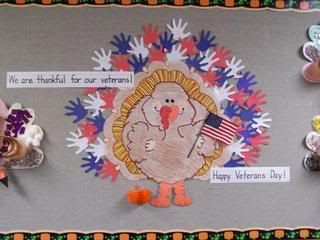 *****
*This* is my 600th blog post!
I'll be hosting a
giveaway
later this week, and all you have to do to be entered is comment on THIS post! Each comment will count as one entry,
but if you are (or *become*) a follower of my blog,
your name will be tossed into the hat one more time!