After
sharing this photo
(don't worry, the dead white rat is *thankfully* made of rubber!) of my desk at school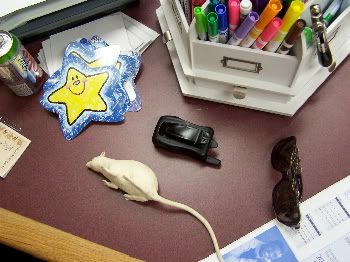 I asked readers to post photos of their own teacher space on their blogs and link back:
Tracy at Grace Comes By Hearing
shared a photo
of her organized space (go look, you can see *actual* deskTOP in her photo!), and also gives us a
tour of her classroom here.
Thanks Tracy!
Jonelle
shared her colorful before-and-after desk photos
from her blog, A Place Called Kindergarten. Jonelle is a binder queen like I am (I organize all pages, posters, craft ideas, etc. in monthly three-ring binders) and also loves her SMARTBoard- she
shares some terrific links
that I'll be checking out this week- thanks Jonelle!
*****
Vanessa's daughter E. was one of my Super Stars last year. Their family has relocated to Hawaii where E. is now a Super Star FIRST Grader! Vanessa shares the following *student* desk organizing tip:
I don't have a picture of a desk to share, but I do have a student desk organization idea. E's teacher had the students bring a cardboard tray (the kind that bottled water, Gatorade, etc come on). Now the students just have to pull out the tray to see what is in the desk. They seem to fit perfectly.
Mahalo Vanessa!
*****
Do you have helpful desk organization tips for teacher or student spaces, or would you like me to add a link back to your blog so you can share a photo with us? Leave me a comment with your link on either my
original show and share post
or this one and I'll check back midweek to add your contribution.
*****
~April Sanders shares S
tudent Desk Organization tips
at eHow...
~ Classroom organization includes furniture placement, lighting, storage materials and displays. Scholastic offers
ideas on arranging your classroom's physical environment
...
~ While not all grades/teachers might use every tip or product suggested by Mrs. McDavid, you will certainly
find inspiration in her classroom organization tips
(and she has photos, photos, photos!) at Getting Organized.