For this teacher, the word "summer" is not only a name that refers to the sunniest and hottest season of the year, it's also the label I use to mark the break between school years, June-ish to the beginning of August. When chatting with other teachers about summer plans, they seem to instinctively use that double-entendre as well. There are summer plans that you have with friends and family (travel, cookouts, reunions) and
summer
plans that have to do with teaching (classes to take, trainings to attend, seminars promoted by your district).
This summer and
summer
have flown by for me. Good because I've obviously been busy, not-so-good because NOW I'm ready to start sleeping in. It takes me almost two full months to "come down" after the end of a school year, and by the time I'm really ready to recharge my batteries, it's time to go back. I enjoyed a SMARTBoard class and continued to share with and learn from my global professional learning community via blogging, Facebook and email. I've had fun with Dear Husband, Dear Daughter and the pre-schooler as we've spent extra family time together in preparation for DH's next deployment (Murphy's Law Zinger: he deploys the first day I have students). I've been crafty, had a semi-yard sale, cleaned house, done the Domestic Goddess routine, and have splurged occasionally on foo-foo coffee. I've snuck back into my classroom to get the big stuff arranged and ready for my newest group of Super Stars and Super Star Families, and I've enjoyed my new Jeep and MacBook Pro.
This past week-and-a-half, I've read through all nine
Sookie Stackhouse novels
(vampire/supernatural genre), a guilty pleasure to say the least. Another guilty pleasure will take hold today and tomorrow as I do my back-to-school baking,
cookies for colleagues
, my own version of staff support. Not sure the home baked treats will rate high on our district's Physical Health and Wellness Goals for this year, but hey, mental health and preservative-free endorphin-enhancers will certainly get us through our final room and grade level preparations, right? I know, I know, so will exercise. *Sigh* Just roll with me on this one, literally and figuratively. My kindergarten colleague J. requested
these cookies
at the end of LAST YEAR for this year's first batch, demonstrating superior
calling dibs
skills, though I'll also make oatmeal raisin spice cookies too.
*****
Celebrating our anniversary this weekend, my husband and I have opted to let others prepare our celebratory meals. We love
PF Changs
, especially their
lettuce wrap appetizers
, but were treated to exceptionally personable and wonderful service by Tony (manager) and Jamie (server) yesterday for lunch: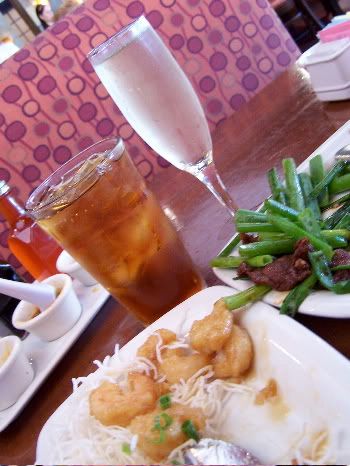 Honey Shrimp, Mongolian Beef, iced tea and champagne (a sneaky treat from Tony and Jamie) fueled us up so we could roam Barnes and Noble, sans children, to our hearts' content. Tonight we're off to
Lidia's
for dinner- looks like I'll need tomorrow's district Wellness Kick-Off Event after all!
*****
Click Here to take survey
Thank you for taking my Survey for Kindergarten's 3 R's! So far I have forty responses, but have 60 entries left from which to analyze data and feedback for what you'd like to see more of in the future- if you haven't taken the survey, it's quick and easy, just click on the survey link highlighted above!
*****