As I begin to gear up for the upcoming school year, I've been contemplating a few changes to my blog. For this, my 550th blog post, I've created a survey in order to collect your feedback and ideas on what you'd like to see happen here at Kindergarten's 3 R's. I'm guessing that many of my readers are fellow teachers, both public and home, parents of young children, or fellow paper crafters- I'm really looking forward to reading your responses!
The survey has only ten questions, and if you think of something else you'd like to add or ask me about, as always you are welcome to leave a comment here or email me at: michaelek1(at)yahoo(dot)com
Click Here to take survey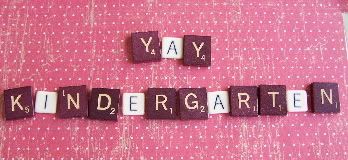 A BIG *thank you* to Saucy-I enjoy her blog sooooo much! It was she who put me on the
SurveyMonkey
path today with
her own post and survey
(and of course, I happily submitted my answers!).