Yesterday I had the following on my to-do list:
~laundry ~iron clothes ~take kids to the park ~clean house
~buy groceries ~make banners ~blog ~bake muffins and cookies
~prep the pre-schooler's supplies for his first day of...PRE-SCHOOL!
I managed to get it ALL done (and paint my nails an interesting shade of green for St. Patrick's Day) after drinking a "nutty Irishman mocha" on the way to the park: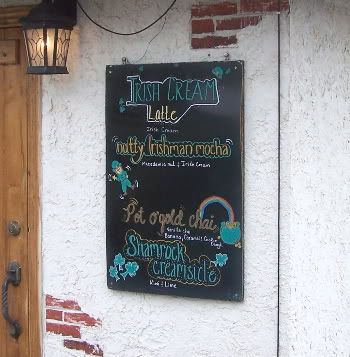 The kids had fun while I snapped photos~ such a nice way to spend a Sunday!
*****
~Head over to TipNut.com for links, links,and more links in an
Irish Medley for St. Patrick's Day
...
~Nina shares beyond-incredible bracelets at
Ornamental
~ her creations are so tactile, dimensional, earthy and each piece seems full of history and stories to tell. I never tire of visiting her site, though I'll admit I've only ever been a lurker, quietly reading and taking in all of the visual details. Her blog often serves as my "quiet place."
~Calling all classroom moms (or teachers looking to score mondo-brownie-points in the teachers' lounge): Head to The Pioneer Woman Cooks, click on all of the links to
Bakerella
, and be inspired. **So** inspired that you'll actually *make*
Cupcake Bites
... please!
~Want to make something quick and easy before tackling the cupcake bites? Buy some butterscotch chips, crunchy chow mein noodles, candy Easter eggs (or jelly beans!) and peanut butter, and then head over to Whimsy Love for her
Haystack tutorial
!