It's been a week full of tick-tocks (more on those tomorrow), extra chores (DH is out of town this week), potty training for the pre-schooler (he's been so successful that he's decided to sneak out of his diaper and into multiple pairs of Spiderman or Star Wars underwear after he's been tucked in for the evening...which *works* until the next morning when his grogginess prevents him from remembering he's NOT IN A DIAPER while still in bed), and paper preparation (time for St. Patrick's Day banners!). Needless to say my posting has been sporadic, at best~ hopefully you'll enjoy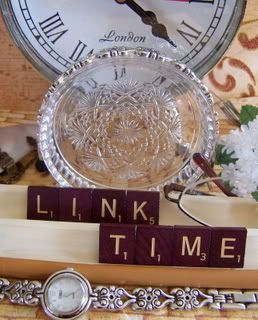 !
*****
Recipes:
~ Make and Takes shares the how-to's for
muffin tin meatloaf
...
~ Homemade
heart shaped SAMOAS
are baking in Laura Rebecca's Kitchen...
~ ...and The Pioneer Woman Cooks
french onion soup
...
*****
Crafts:
~ Whimsy Love shares a
photo tag book tutorial
...
~ Miss Fancy Pants has me motivated to make some
magnet gift sets
...
~ ... and Saucy tells us
everything we need to know about making fun shrink art
(her charms are awesome!) at Bloggedy Blog Blog
****
~ Check back
late
tomorrow for "Hickory Dickory Dock, We Are Learning About Clocks!"
*****