My online complaint to a
different
school photography company:
Hello, my daughter attends _______________________ High School in __________, Kansas, and in stark contrast to your advertised "no hassle" photo days, she was today, in fact, REFUSED the opportunity to have her school photo retaken. She was told by your representative that because 1) she wasn't purchasing photos (why would we purchase photos we didn't like, hence our decision to have her RETAKE them?) and 2) because she didn't blink or have hair out of place her photo would not be taken. Apparently your company doesn't realize that the problem(s) with her original photos are determined by US, her parents (and your potential customers)- who were frankly more than willing to allow you to take another photo today that we were likely to have purchased.

We were told by school staff that it is your company's policy that limits retake photo opportunities and that YOU determine who will therefore have flattering photos in the school's yearbook. Does this policy exist because there are too many customers who would want retakes, or in much more plain language: does your company take that many poor quality photos each year, creating monstrously long lines and time consuming photo sessions on Retake Day?

We are not happy- and are frankly disappointed that our daughter had to experience what she did today. She was looking forward to having her first school photo done over and spent extra time on her hair and clothing only to have your company refuse her and make her feel stuck with a picture that neither she nor we are happy with.

Not cool. And certainly not "hassle free."
Good thing I snapped a photo of her this morning before she left school (and no, the company hasn't replied):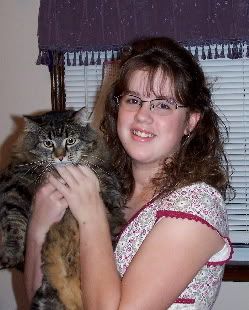 LifeTouch
, where are you?