The season of
change
has taken up residence in my home. Not autumn, not back-to-school time, and not Uncle-Sam-is-moving-us-again, but rather the season of
No-matter-how-long-I-wait-and-hold-on-to-these-clothes-I-will-probably-never-fit-into-them-again
. Trying to soften the blow, Dear Daughter reminded me that living in Oz for the next few years won't offer too many opportunities for me to wear my wool/blanket style skirts, gorgeous hand knit sweaters, or heavier-lined career dresses that worked so well in Alaska.
I ended up making Goodwill's day yesterday and feel better that my clothes will no longer just take up room in multiple closets at home when they could be put to better use by those who need them. I've held on to my clothing treasures since finding out I was pregnant with the Toddler. Four years is a long time to live in denial over hip-spread, you know?
But I kept the sweaters
. Just in case Mother Nature is friends with Murphy's Law (I've heard she is).
*****
...and the HAIR. Texas was so hot and dry last year that a little hair mousse and a straightening iron kept the wavy/curly stuff neat and frizz-free. Here in HumidityLand, my hair has few options other than a french braid or being pulled up by a banana clip. If I were to cut it much shorter for some heat relief, I'd walk around looking like a poofy shrubbery most of the time (okay, a much larger poofy shrubbery than at present). To chemically straighten, or not to chemically straighten...THAT is the question. NI!
*****
I tried a
"simple" sewing (and FREE) pattern
yesterday in an attempt to make a stuffed Halloween Kitty. I love the creator's kitties that are featured in the current Mary Englebreight's Home Companion magazine. Mine,
not so much
. Apparently I'm better with a glue gun than a sewing machine.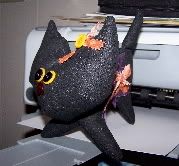 *****
Dear Daughter wants to decorate the house for Halloween later today, rather than waiting until next weekend. I'll finish up the Halloween banner, maybe make some smaller ones for the kids' rooms, and review
one of my posts from last year for inspiration
. Thank goodness for blog-documenting!
*****
My aide has loaned me her copy of
The Kite Runner
. You KNOW you're in a good place when you work with colleagues who share book recommendations with one another! One of my parents also brought me a book about teaching in Alaska (it's on my desk at work, and I can't remember the title off the top of my head)- double SCORE!
*****