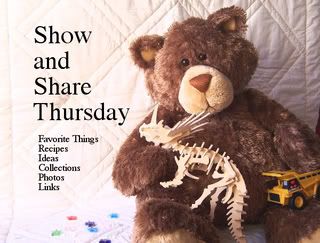 There is ONE advantage to packers dumping, shuffling, and resorting your belongings when you move: you stumble across wishes and inspiration from your past!
This was my "dream wedding gown," torn from a bridal magazine when I was either a senior in high school, or a freshman in college,
twenty years ago
: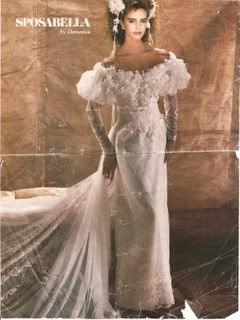 What you can't see is the powder pink embroidery along the bodice hem and train. The foofy hair? I *still* try for that look to this day! I love the feminine seed pearls and tulle rosettes along the neckline, and I even love the ribbons hanging from the-not-quite-Star-Wars-fantasy hair barrettes. It's strangely funny and interesting to me that when Dear Husband and I got married so many years later, I wore a white gown, with "rum pink" embroidery, and had ribbons hanging from a bouquet made of tulle and satin rosettes with seed pearls.
*****
*One of my favorite bloggers, Saucy at
Bloggedy Blog Blog
, just flipped a house with her husband Veto.
Here are some before and after photos
(amazing!), and while I'm not brave enough, nor have the time or inclination to flip a house myself, she's posted some
pretty incredible renovation tips here
. Ladies, she even included suggestions for how to store your lip gloss and how to protect your hands, nails, and manicures while you're on site!
*Lisa at
Crazy Adventures in Parenting
...
is making her own military move, family style
. HER story had me laughing and crying after our own trip necessitated by Uncle Sam. Military spouses, unite!
*Vicki at
This Art That Makes Me Happy
has inspired me to try my hand at
paper covered letters
...once I finish unpacking of course!
*****
Let's get back to the foo-foo-froo-froo, shall we?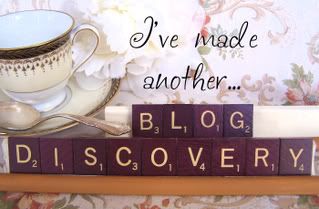 It's everything the name implies:
For the Love of Cupcakes and Everything Pink
*****