It was Shannon's birthday last week! I promised to share what we'd sent once she let us know she'd received her package...after all, I didn't want to post photos and let the cat, or in this case, DOG out of the bag, ruining her surprise!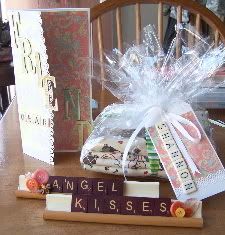 We picked out doggy material for her *extensive* fabric collection (and because it was so darn cute~Shannon will think of a wonderful craft for it) and found some coordinating ribbon: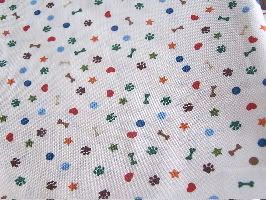 Then I spelled out
Angel Kisses
with Scrabble Tiles, adhered them to painted tile trays, and added pretty buttons in Shannon-ey colors: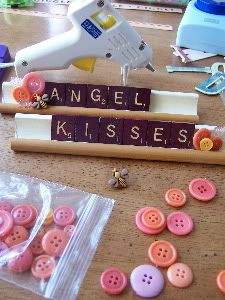 And of course, I made her a birthday card!
White cardstock, folded not quite in full thirds: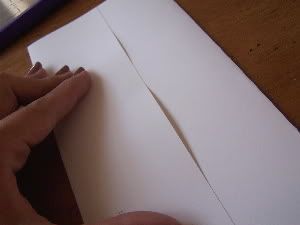 A sunny paper for the inside and outside: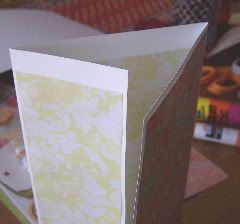 A coordinating paper for the "underfold" front of the card, with extra pieces cut out to make a coordinating gift tag: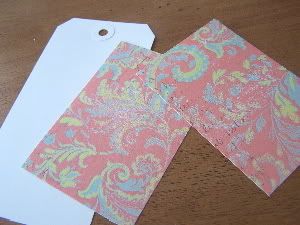 Some pretty adhesive-backed paper lace (this is some of my FAVORITE STUFF!):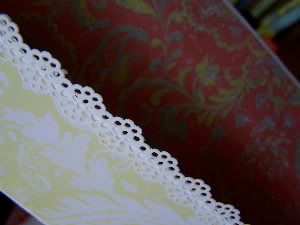 Coordinating chipboard letters spelling "friend" (I made sure the "E" wasn't glued all the way down, otherwise the card wouldn't have opened!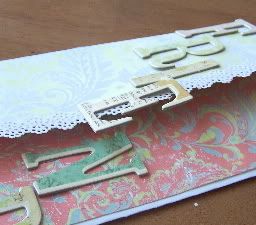 Smaller ivory letters to spell "Dear" (Shannon is a dear friend, after all!) and to spell her name on the gift tag:
"Happy Birthday" for the inside of the card, on pretty paper, with foo-foo trims punched out, and corners rounded...I added lime green brads to the corners as well: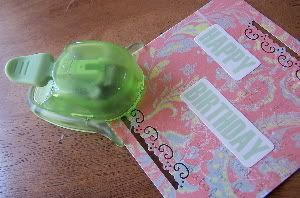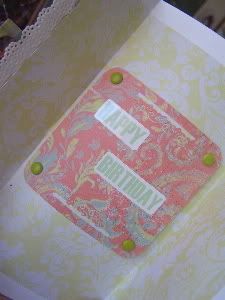 How the card looked open, from the back:
...and the front!
Talk about FUN!~
*****
~I've never been a fan of apricots, but Smitten Kitchen is tempting me to give them another try with
Breakfast Apricot Crisp...
~My daughter, who puts Ranch dressing on just about everything (okay, except pancakes), will have to keep a copy of
this recipe
from A Pioneer Woman Cooks in her "My Parents are Kicking Me Out of the House" cookbook when she leaves for college in five years.
*****
Check back tomorrow when I post photos of our toddler making Daddy's Father's Day card... it involves PAINT!