Father's Day is this weekend, and the kids have had fun making some artwork for Daddy! All they needed was cardstock, paint (washable, of course!) wet wipes, paper towels, and their hands and feet!
We'll add this poem to one of Daddy's cards, or print it up in a cute font and frame it next to a photo of the kids:
Footprints
"Walk a little slower daddy," said a child so small. "I'm following in your
footsteps and I don't want to fall. Sometimes your steps are very fast,
Sometimes they're hard to see;
So walk a little slower, Daddy,
For you are leading me. Someday when I'm all grown up,
You're what I want to be;
Then I will have a little child
Who'll want to follow me. And I would want to lead just right,
And know that I was true;
So, walk a little slower, Daddy,
For I must follow you.
*****
I cut out the hand/foot prints, chose some fabric (tan), and let the kids choose some ribbon to coordinate with the paint colors: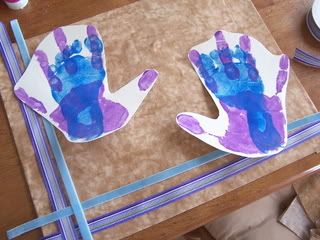 Added some glitter stickers (silver since we chose a black frame):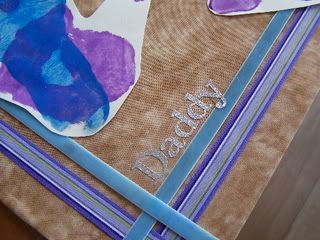 Added "Happy Father's Day" and "2008" in glitter stickers and adhesive-backed blue felt: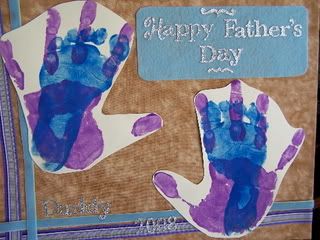 ...and framed it all for Daddy's new office: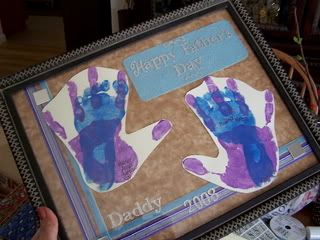 *****
I'll be spending this afternoon figuring out how to load photos onto a digital photo frame for Grandpa's Father's Day gift, wish me luck!