Our cat, Anni, *knows* something is up.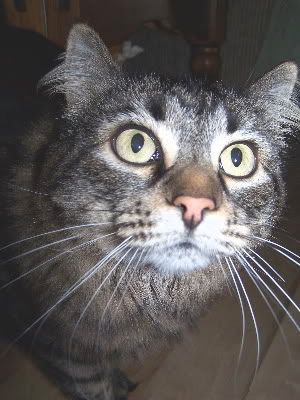 Dear Daughter spending a week with grandparents has created the extra clinginess, the extra pacing, and the extra meowiness from Anni that we've come to expect. Yesterday's increase in visitors (friends came over to help my husband get the garage in order and partially packed), the constant running of the washer, dryer, and dishwasher (I like our things to be packed CLEAN so they can quickly find their new locations when we open up the moving boxes on the other end) and my extended stay in Daughter's room (wow, teens are amazing packrats!) with a garbage bag in hand pushed Anni past some kitty breaking point. Immediately after we got into bed to get some much needed sleep, Anni jumped on the bed and proceeded to do her best to... trample us. One doesn't usually associate cats with trampling, but I assure you,
trampling
is exactly what Anni was doing.
No, she didn't want to be petted.
No, she didn't want to be brushed.
No, her litter box didn't need to be changed.
No, she wasn't hungry, and her food and water bowls were full.
She *knows.*
She hasn't seen it in almost a year, but she knows the cat carrier is around here somewhere, lurking, waiting, ready to pounce on her and bind her back into captivity for the two-day (or more) drive back to Kansas.
I caught her yesterday afternoon, preparing for battle, sharpening her no-longer-there claws: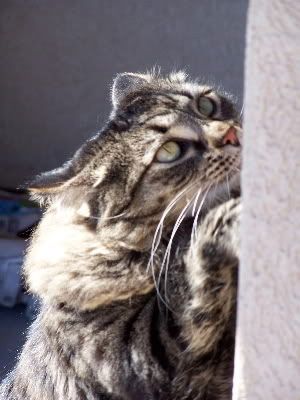 Oh...boy...