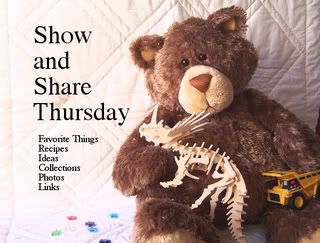 Hello, my name is Michaele, and I'm an addict. A
Vera Bradley
Addict.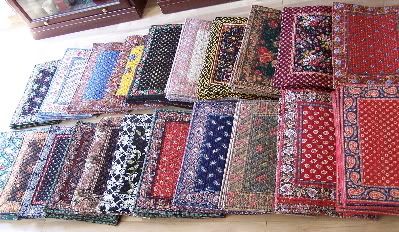 What's surprising is that I wasn't aware of the extent of my addiction until today, as I went through the hutch in our dining room to find Easter-ish or Spring-ish place mats or tablecloths for this weekend.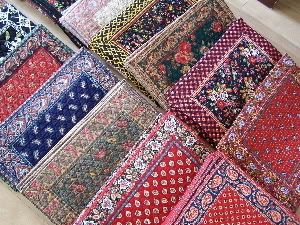 I kept pulling out set after set of VB place mats and realized that there were still *more* sets packed away with the Christmas decor! In fact, the photos I'm sharing today don't include my VB tablecloths, napkins, table runners, purses/handbags, or clothing items... and the sets shown above aren't ALL, since I'm using several sets in our barrister bookcases and throughout the living room and kitchen for spring accents: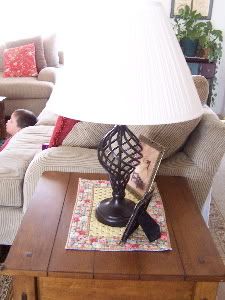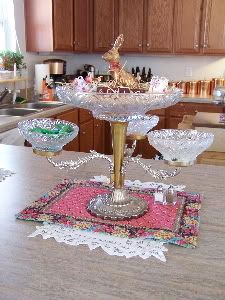 I'm guessing my love of Vera Bradley table decor is linked to my love for quilts- each of these place mats are quilted with a coordinating fabric on the back. I'm always on the look-out for retired patterns and colors on Ebay, Petit Point, Black Walnut, and Maison Blue especially: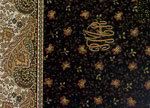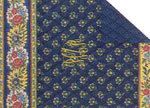 What's not to love? They're machine washable, patterned enough to hide a small stain here or there, and instantly dress up a table or other surface beautifully. With a toddler and busy family, EASE and FUNCTIONALITY are essentials in our home, but in case you were wondering, no, I simply cannot resist PRETTINESS.
No, no, I'm NOT a Vera Bradley salesperson or store representative- though I wish I were if it would get me a discount on the new line of
RUGS
available online! Gorgeous, gorgeous, gorgeous!
If you'd like something a bit more romantic, "foofy" even for table decor, try
April Cornell
, another favorite of mine!
***********************************************************
Easter/Spring Projects:
~Kelli at There's No Place Like Home has made some beautiful
egg-shaped pocket cards
and walks you through, step by step...
~ Lisa at Celebrate Creativity in All its Forms shows us how to
decorate a new vase
, just in time for those spring bouquets, though I think I'll use her techniques and advice on a few storage containers I've been saving up lately for my desk...
~ Terry at Bent Objects expresses some Easter humor with a
chocolate bunny, some raisins and Raisinets
, a nice change from the deluge of
Peep dioramas
that many others have produced this year...
~ Laura Rebecca's Kitchen tells us how to make
perfect hard boiled eggs
(still on my to-do list for today!)
~ Angry Chicken shares a recipe for
birds' nests
(edible!) that kindergarten teachers, their students and families are sure to enjoy!
***********************************************************
Recent Blog Discoveries:
ModernJune
Tammy Gilley Studios
***********************************************************
I forgot to mention that while I was playing with
Scrabble tiles and tongue-twisters the other day
, I also made a Scrabble rack to go with my Easter decor in the epergne: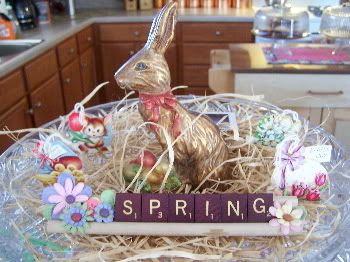 Happy Spring
!