It's been a terrific Tuesday! The toddler accompanied me to a craft store where I found some more ribbon, felt, and charms, adding some other colors to the pink streak I started a few days ago: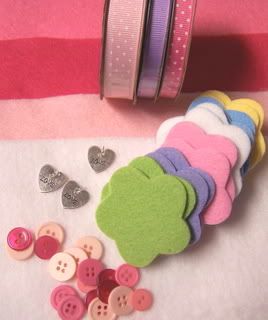 Domestic goddess duties kept me busy, though I was able to enjoy a quick catnap before settling in for some more online blog discoveries (*why* I went so long without using an RSS program still has me shaking my head, another testament to my "late bloomeriness")- some Tuesday Treasures include:
Paper and String
: she's on a pink/Valentine roll too!
Red Felt Flower
: I can't wait until NetNewsWire alerts me of her first 2008 post...
...and
Bent Objects
, where "Truth in Labeling" had me cracking up!
I'm off to enjoy tacos with the family for dinner, but not before I tell you to *check back tomorrow* for the giveaway item I've chosen to help me mark my 100th Blog milestone (it was the Band/Album Meme posting!)- remember, I'm a teacher, and a bit of a girlie-girl, so expect something literacy enriching...and PINK!