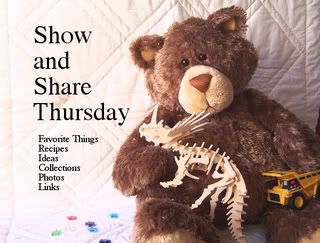 Sounds a bit like "show and tell Friday," doesn't it?
Why "show and share?" Because kindergartners express themselves in a myriad of ways, and not just through speech. Speaking to peers, teachers, and possibly with the greater public is an important skill to help children develop, but I'm a firm believer in teaching children how to
share
their information, knowledge, inquiries and interests with their audience, opening up communication with at the very least mimed demonstrations, interpretive dance performances, and of course, two-way dialogue. Even the shyest and most reluctant of speakers have come out of their shells after being allowed to pantomime, display a toy or artwork, or dance to a favorite song in front of their peers.
Why on Thursday? Because I've had many parents of my kindergartners email me over the weekend when their kiddos have forgotten their "show and shares" at school on Friday, and my goodness, a weekend is an
eternity
for five year olds to wait to see their special item again! Having Show and Share on Thursday means that even if an item has been accidentally left at school overnight, it can be remembered and brought home on Friday- happiness all around!
In the spirit of sharing, feel free to submit ideas and links about your favorite things (it would be nice if you provided photos too!) or helpful resources that you think others might enjoy via comments or emailing me (michaelek1(at)yahoo(dot)com) by Wednesday of each week. I'll add your contributions and post everything here and at my Tending the Eclectic Kindergarten blog site (linked on the right) on Thursday.
**************************************************************************
Here's a fun recipe (and quick snack for your sweet tooth) when you're wanting something sweet, warm, and a little salty too. It's also easy for kids to make in the classroom if you have a toaster oven and would like a special treat during your snow/winter unit!
Ritz Crackers (I used reduced fat Ritz)
chocolate kisses or chocolate bar pieces
large marshmallows, cut in half
Heat your oven to 350 degrees, use foil or parchment paper on your baking sheet for easy cleanup. Place crackers on sheet, top with chocolate, and marshmallows. Bake (melt) for five to eight minutes (keep an eye on them!), and let cool for three to five minutes before handling. NUMMY!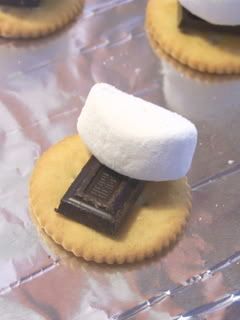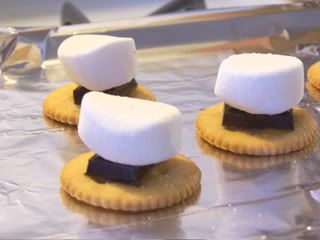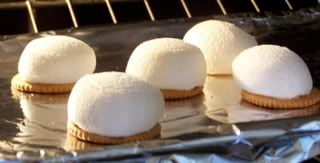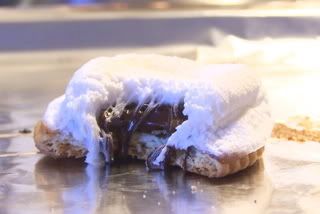 ***************************************************************************
For those of you who are wondering what has happened to our home decor since the holidays, let's just say the following photos are probably as close as we're going to get to seeing SNOW this month!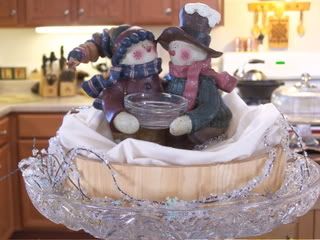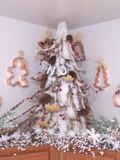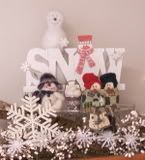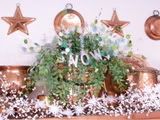 ***************************************************************************
Some links:
Linda was nice enough to leave a comment from
Classroom Displays
, and of course I'll be adding the site to my blogroll after seeing the "Where the Wild Things Are" bulletin board! Thanks for sharing!
Honeysuckle Lane
is hosting a giveaway in honor of her
100th blog post
(my 100th is coming up soon, any ideas on how to commemorate it?) featuring her cards and charms.
Finally,
CakeSpy
is the newest blog I've found where I can blow my virtual diet (I've broken a few fingernails trying to grab the goodies off of my computer screen) daily!
Enjoy!