My friend Polly will understand. It's an annual urge we both share. Only this year I'm not only painting my nails pink, wearing pink shirts, and having fun with rosy lip gloss...oh no...
pink
has been catching my eye everywhere lately. I'm not the "romantic/shabby" decor kind of gal, with rooms overflowing with cabbage roses, white furniture, and pink galore, but I do appreciate *touches* of the flirtatious color. Who'da thunk I'd be bitten by the fabric bug while shopping this morning?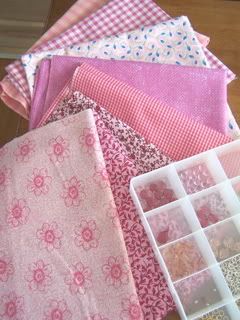 The fabric and baubles will be incorporated into some project or another, as yet, undecided. My husband won't mind as I'll take over the countertops while he's away hunting, and I've neglected using my sewing machine for far too long now.
With Valentine's Day coming up next month, I've also got love and hearts on the brain. Is it just me, or is the fruit I snack on each day even subliminally suggesting
love
?