It's November now, requiring some home decor swift-o change-o! *Away* go the witches, jack-o-lanterns, skeletons, and bats, and out come the turkeys, cornucopias, Indians, Pilgrims, and maize! Same autumn leaf color scheme, so the transition was a quick one.
The
epergne
with a "prim" turkey, glass pumpkin ornament, multi-leaf garland, autumn candy,
Vera Bradley
"Chocolat" placemats, and
Shannon's handcrafted leaves
: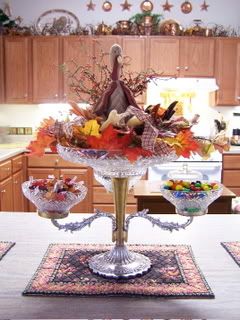 The game table next to the front door with a Klipper Kanvas Pilgrim banner,
maize
, wood "tole" characters, and bear figurines. I kept the pumpkins from Halloween and added a large wooden turkey character to the basket of leaves: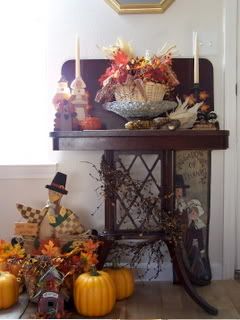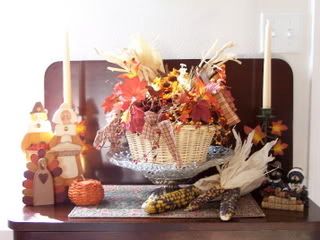 The vignette transitioning between the dining room and kitchen: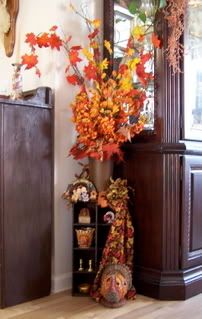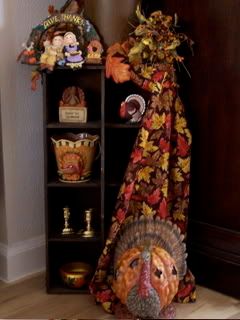 The dining room table centerpiece, with resin turkey candlesticks, a crafty cornucopia with maize and glass ornaments, and the Indian bear figurines: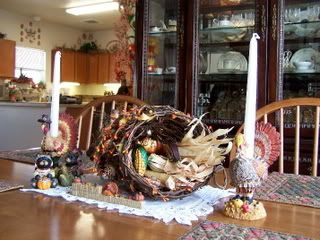 The vignette over the kitchen sink includes one of Shannon's "harvest witches," some popcorn and maize in a glass vase and wooden tole blocks spelling out "Give Thanks:"
And finally, the wreath on the door: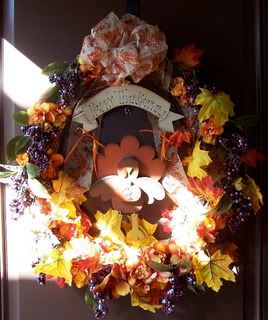 Gobble gobble gobble!