We've set our clocks back and are enjoying the relative quiet that can be enjoyed on many Sunday mornings, traffic non-existent, neighbors still asleep, teenager asleep after a long night of babysitting, toddler running through the house at a dull roar, cat hiding from the toddler. Funny that even with a load of laundry in the dryer and the dishwasher running a "heavy" cycle, it still seems quiet. Or at least calm.
The smell of freshly brewed coffee and freshly baked peach coffeecake makes me want to avoid looking out of our windows. It's sunny, dirt brown, and supposed to be eighty degrees today. There are no large trees where we live, no lush, green lawns, no autumn splendor. No piles of snow for that matter either. Just dirty, brown, abrasive desert. No wonder I go nuts decorating the interior of the house. We're hoping our next military move will take us somewhere with four seasons, if a place like that exists anymore.

For Halloween, I dug through my closet to find an appropriate shirt to wear that would indicate I was part of the holiday fun, though NOT wearing a costume. I quickly found a black shirt with a sparkley jack-o-lantern on the front, put it on and realized as I re-straightened my piles of theme-ey type clothes,
"I'm not teaching this year."
Sliding hangers from right to left, I found my ABC jumper, with the embroidered books, pencils, crayons, and appliques on its hem. Next were my shirts and denim jumpers with autumn leaf patches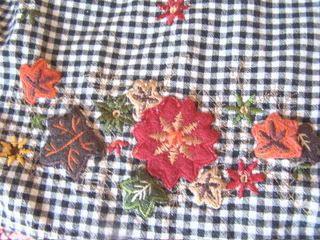 embroidered acorns, and multi-colored apples, then my Halloween jumper with the black velvet bodice, embroidered pumpkins and spooky house above a black and white checked skirt. My brown knit dress with jacket WILL be worn sometime this month as my toddler will certainly appreciate the Pilgrim and turkey quilted appliques on the jacket and bodice!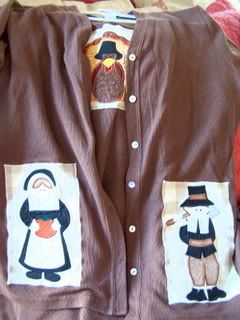 Next in the piles of teacher fashion are my Christmas sweaters, vests, denim shirts, and embroidered velvet shoes.
Don't forget all of the "teacher jewelry" that serves to accentuate this timeless, gaudy, teacher style!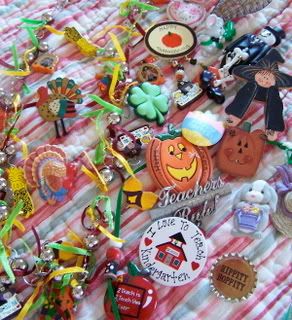 Light-up reindeer pins, glittery ornament earrings, Hannukah dreydl necklaces made out of
Sculpy
clay, snowflake charm and bead safety pin brooches received as gifts from students and their families. January is low key fashion-wise, snowmen, mittens, snowflakes, but February brings it all back up a notch with pink, red, white, and purple hearts, cupids, and embroidered versions of those conversation "U R Cute" hearts on lapels, hems, and sleeves. March? Green, and lots of fuzzy pipecleaner shamrocks. April? Flowers, bunnies, baskets, eggs, PASTELS. May? Stars, stars, and more stars, since I call my students "Super Stars," and it's their month to celebrate moving on to the first grade. I think I'm going through withdrawals.
Another piece of coffeecake will help, I'm sure. I modified the Bisquick/General Mills recipe for
Velvet Crumb Cake
by adding cinnamon, additional sugar, and drained, diced peaches, omitting the "crumb topping" all together. The recipe works just as well with drained mandarin oranges.
What to wear, what to wear...