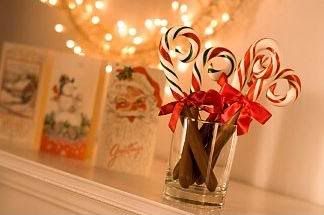 Oh, the winter holiday season is almost upon us! Baking, singing, decorating, spending time with friends and families, treasure hunting, gift giving, traveling... it's all good!
The National Association for the Education of Young Children offers a descriptive article regarding
Good Toys for Children
, and I know that NOT too many of you will be surprised to find that in fact, the newest whirlie gig-light up-digital bells a- ringing-cartoon character toys AREN'T the most developmentally appropriate, stimulating, or safe choices when it comes to purchasing toys for babies, toddlers, preschool or kindergarten aged kiddos. Keep NAEYC's guidelines and suggestions in mind when you're out shopping for youngsters on your gift list.
If the gift of time is more your cup of tea, then perhaps cooking or baking with young family members, friends, or students would be fun! I found some
Kwanzaa
recipes
here
and some
Hanukkah
recipes over at
Food Network
, several of which I'm eagerly anticipating trying in my own kitchen this year.
Making graham cracker "gingerbread" houses with my kids is an annual tradition (one I will miss sharing with students this year) I still need to schedule, but the basic supplies are: empty/clean/dry milk cartons, graham crackers, paper plates, IN-EDIBLE royal icing (recipe
here
), coconut, cookies, cereal, hard candies, licorice ropes, and if you're feeling really adventurous, upside-down ice cream cones frosted with green or white frosting for Christmas tree landscaping around your graham cracker construction!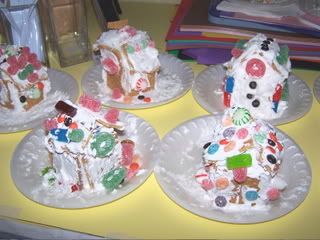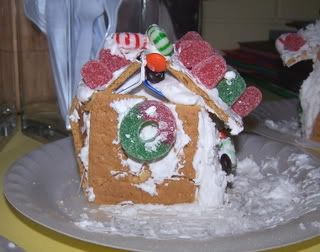 Just in case you think I'm rushing, remember Thanksgiving is right around the corner! In addition to making placemats, cards, and other artwork by hand
, please consider "adopting" a member of our Armed Forces for Thanksgiving dinner. Being a military family member, I am proud to say that our family will be sharing our hospitality and gratitude with three soldiers who are away from home this year. If all of the "geographical bachelors and bachelorettes" have already been adopted by members of your community, please remember those soldiers serving overseas.
Any Soldier
is a site that can help you decide what to send and when to send it, and trust me, care packages are so greatly appreciated by those friends and family serving so far away from home.
Happy Veterans' Day!