February is Dental Health Month!
My Super Star kindergartners love to learn the proper way to brush and floss, and are excited to learn that dentists and healthy foods also help them to maintain their bright, beautiful smiles. To help us remember healthy teeth habits, we made oversized toothbrushes and added the words "dentist, brush, floss" and "snacks" to our writing page: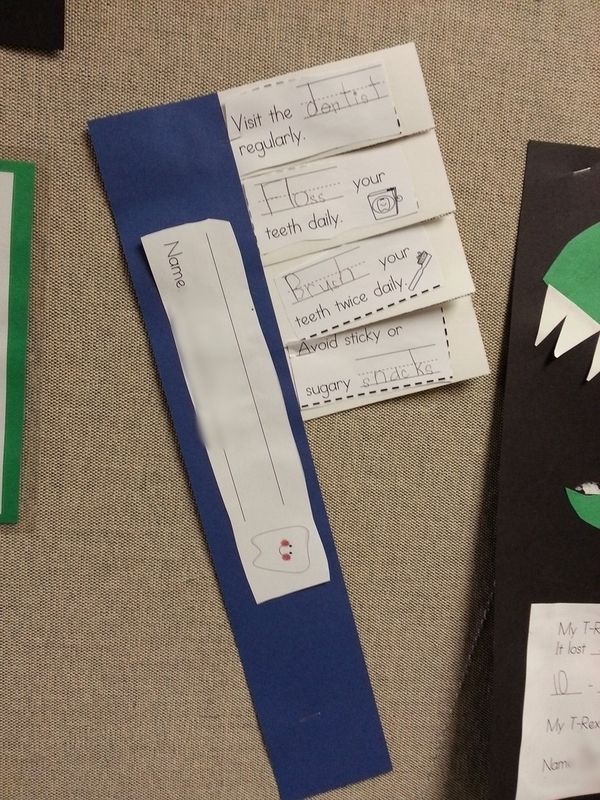 I created a PDF available on TPT for this activity! Included in the PDF are a list of needed materials, directions, and printable text pages that include the following options: preprinted sentence, preprinted sentence with traceable words, and preprinted sentence with blank writing line pages so you can choose exactly which activity will integrate well into your dental health lessons. The
Oversized Toothbrush Craft
will be available for $1 this month (2016)! Click on the photos below to be taken to my Teachers Pay Teachers store:
My Stars also completed a fun T-Rex tooth subtraction activity this week, counting out ten sharp teeth, and then subtracting some from their dinosaur's mouth. They expressed the loss of teeth in a math equation too:
Now our hallway bulletin boards are full of T-Rex friends and toothbrushes!
Take care of those chompers!