Here are more tips and a how-to for those of you wanting to use Pinterest for collaboration and/or personal use.
Avoiding the "cannot pin from this site" block:
~ If you 1) have a Pinterest account
AND
2) have installed the "Pin It" button into your internet browser's bookmarks bar, you can get around the "sorry, we cannot repin from this site due to suspicious activity" hiccup that pops up at work when you're on the actual Pinterest site and you've found a pin you like on someone else's board. Here's how and FYI, it's also the BEST way to save an actual link, site, work page, tutorial, etc.
Let's say you've found some images/pins on Pinterest that you'd like to re-pin. I'd like to re-pin the "Sweet Paul Holiday Countdown: Day 6-Crepe Paper Roses" item to one of my own boards.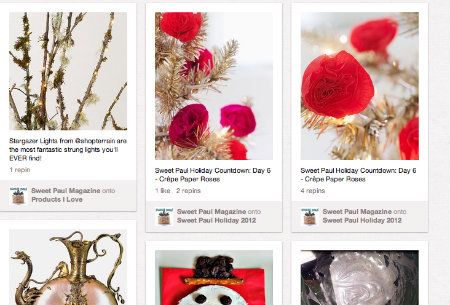 When I click on the image, I see the following:


**INSTEAD** of clicking on the "Repin" button and saving it to my board, I will click on the PHOTO itself:
Clicking on the photo opens up a new window. The window SHOULD be the actual site from which the photo was originally pinned by the other Pinterest user.


On that site, I will go up to my "Pin It" button that I installed in my bookmarks bar (it's in the upper right corner):


After clicking the "Pin It" button, the screen will change to this: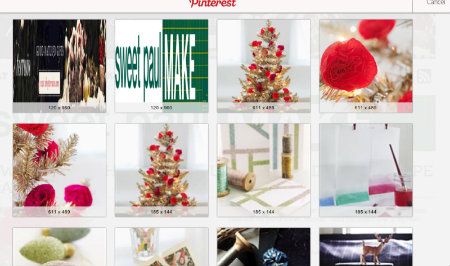 These images are miniatures of photos that appear on Sweet Paul's site. I need to click on the picture of the item I'm actually wanting to pin (which is the crepe paper flower tree). See how the white "Pin It" link appeared on the photo I hovered my cursor over? I'll click "Pin It"....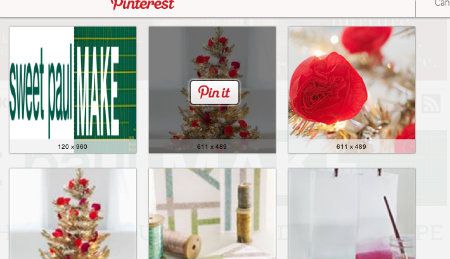 ...at which point this window pops up: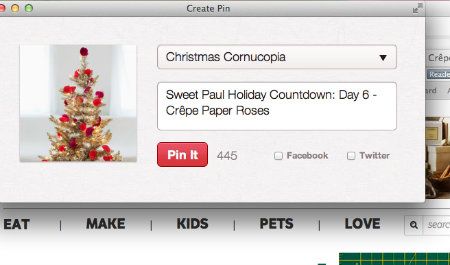 As I DO want to save this particular pin to my "Christmas Cornucopia" board (and the caption is fine in the dialogue box), I"ll click on the red "Pin It" button.
After I do, here's what I see:


I can click on the links in this window, or I can click it closed (red dot, upper left corner), OR just wait a few seconds as it will close on its own. The pin has been saved to my board, avoiding the "blocking pins from this site" message that might have occurred if I had simply tried to repin from someone else on Pinterest itself.
Pinning from the actual site:
1) saves you from getting the dreaded "can't pin" blockage when you're at work;
2) makes it much more likely that you'll be able to get to the actual link/publisher/copy/creator at a later date
3) makes it possible for colleagues who repin from YOUR boards to find the original source instead of being led on a wild goose chase that can happen when repin trails get too long
I don't have a problem with friends, family, colleagues or even strangers knowing that I have a thing for the color pink and that I love finding new-to-me crochet patterns. If you would rather not share that kind of information with the world, consider creating two accounts: one professional, and one personal.
For your professional boards, create your account using your school email address and identifying name and information. Colleagues can search for, find you, follow you (or your boards), and repin links you've shared. So can anyone else who ~happens~ to stumble across this account. Only pin links, items, photos, tutorials, work pages, resources, craft ideas, etc. that you wouldn't mind your colleagues seeing/using.
For your personal boards, create your account using your personal/home email address. Under your name tab (upper right of your Pinterest home page, next to the Add+ and About links), choose "settings" and fill out your personal information using only initials or a nickname. Do NOT link to Facebook or Twitter. This makes it harder
~but not impossible~
for parents, students, colleagues, and strangers to search for and find you.
As almost all activity on Pinterest is public, do not be surprised when eventually some other pinner follows you, your boards, or repins something you've added to a board.
You can deactivate your account at any time
by going to your name link (upper right corner of Pinterest screen), dragging down to "settings," and clicking the "deactivate account" button near the top of the screen.
Happy pinning and collaborating!