Storytime brings my Super Stars and I together each morning, every day before recess, and right before we leave for home in a way like no other. Storytime is in fact, one of the first "routines" each new group of kindergarten students masters early on each school year. Can you blame them? Engaging literature, intriguing illustrations, and ~the voices~ we use to share stories (okay, the voices *I* use when I read aloud) all
catch
our students as the world of reading magically opens as they sit at our feet, enthralled.
Needless to say, I was delighted when Bailey arrived in my mailbox: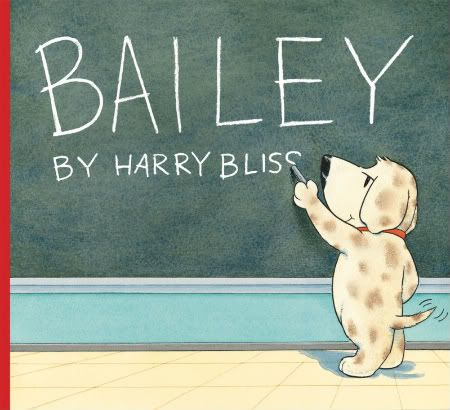 Written and illustrated by Harry Bliss,
Bailey
is the story of a brilliant dog who, along with his classmates, is learning to navigate the world of ~school.~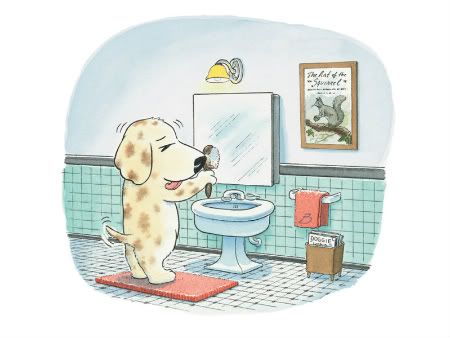 Like most students, Bailey wakes each morning and must wash and brush the sleepies away before riding the bus to school.
Unlike
most students, Bailey's school fashion includes colorful dog collars.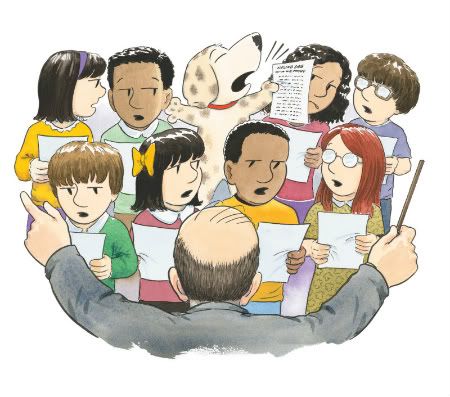 Bailey participates in all school and class activities, giving his ALL during music, though my students' favorite part of the story was when Bailey danced his wiggles and sillies out. Several students wondered how Bailey would eat his snack and lunch (Would he carry a lunch tray or lunch box? Would he have a dog bowl?) and our teacher aide laughed out loud when she realized why Bailey developed a tummy ache requiring a visit to the school nurse (I'll give you a hint: ..."my dog
ate my homework").
During book free-choice time,
Bailey
was enjoyed again and again, my students poring over each and every page, looking for hidden humor, doggie favorites, and
squirrels
!
*****
Would YOU like to win a copy of
Bailey
?
I'll have THREE winners:
The grand prize winner will receive a copy of
Bailey
AND a Bailey lunch box: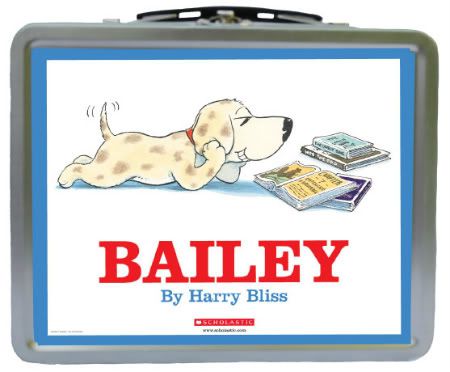 ...while the two runners up will each win a copy of
Bailey
to add to their own classroom libraries.
To enter this giveaway, please do at least one of the following:
1) Leave a comment ~on this post only~ telling me what grade you teach and what kind of dog (if any) you have!
Make sure I have an email address or link so I can notify you if you're the winner!
2) Tweet this giveaway, leaving me a comment ~on this post only~ letting me know the Twitter-verse has been made aware that this great book is available...
3) "Like"
Scholastic Book Clubs on FB
(feel free to track down
Kindergarten's 3 R's on FB
as well), leaving a comment ~on this post only~ letting me know you're linking up with us.
Doing all three (and leaving comments for each one) will earn you three chances to win!
I'll be drawing the winner on Thursday, September 15, 2011.
Good luck, and happy reading!

*****