Shortly after I began my teaching career, I discovered
BOB Books Sets via Scholastic Book Clubs
and purchased them to help round out my personal classroom library.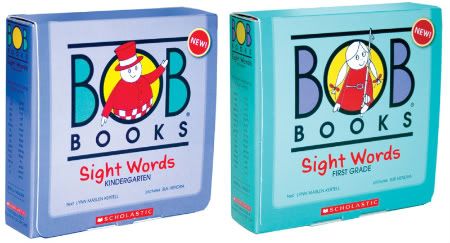 Students, their parents and I enjoyed the books' detailed illustrations and simple sentences that reinforced sight words and developed phonological awareness. The stories were interesting, but short enough to not overwhelm students. The look of surprise when a student read his or her first book with me was quickly followed by lots of "Wow! I read a book! I really did it!" or "Did you hear me read those words? And I pointed to the words too! I can read!"
I've maintained my collection of BOB Books ever since, adding to my collection each time a new set appears in a book order form.
*****
Nothing encourages a child to continue to read more than the feeling of pride and self satisfaction she or he feels after making sense of words and sentences. When the text "fits" the illustrations, children *know* they've GOT IT!

Mastery of sight words helps students comprehend text and read with fluency. I'm a fan of the Kindergarten Sight Words pack and the First Grade Sight Words pack since they introduce children to thirty sight words as they read their way through the ten books contained in each set.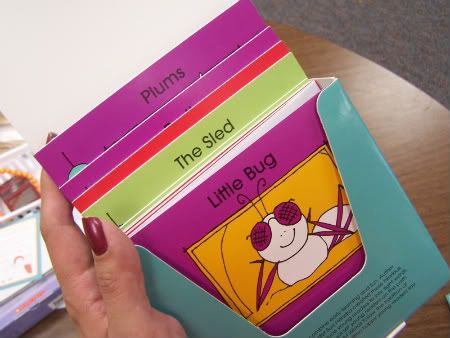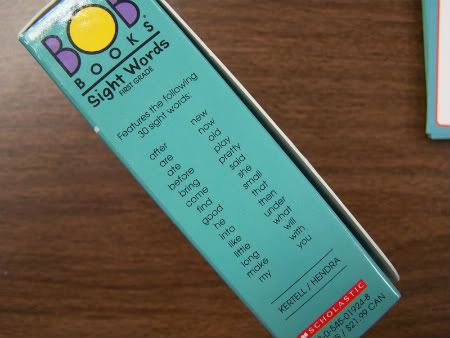 I intended to photograph the kindergarten and first grade BOB Books "in action" in my classroom this week, arranging them on my reading table as my students finished their snacks. Before I could get the books (and sight word cards, SCORE!) artfully arranged, one of my readers ran over to the table, plopped himself down, and started reading. Finding the kindergarten set a bit too easy, he dug through the first grade box and read through "Little Bug."
We then used several of the flash cards as a review of the words he'd read (
ate, he, little
), though it was a card from another story that made us laugh:
*****
How would *you* like to win both the Kindergarten AND First Grade Sight Word Sets of BOB Books AND a lunchbox for YOUR little readers? Each box contains ten books, thirty sight word flash cards and a parent guide. Helpful tips can also be found on the inside cover of each book!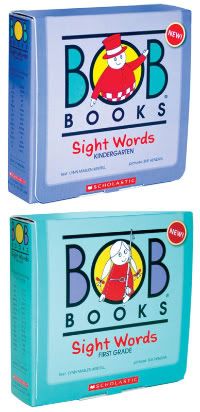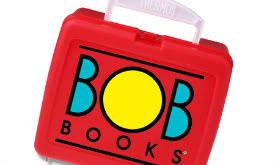 Leave a comment

ON THIS POST ONLY

by Friday, August 27th. Dear Daughter and I will draw TWO winners' names and notify you via email/winning blog post. Please make sure I have a valid e-mail address for you.
Participation in this giveaway is for U.S. residents only.
Many thanks to Scholastic.com for making this giveaway possible!