The magic of One World One Heart 2010 is still brightening these spring days after making the last few weeks of winter infinitely more bearable for me! It was such a wonderful experience not only participating as a blogger, but as a prize contributor. My banners have arrived at their new homes, and my own prizes have settled here in Oz: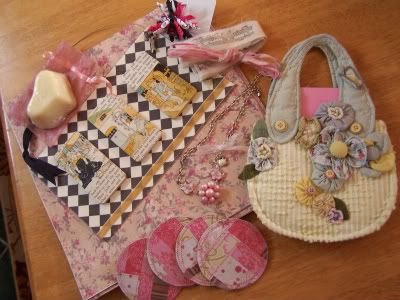 My incredible collage was made by Heidi at
Dreams Intertwined
:
I love Heidi's blog for so many reasons, but I especially love it when she shares photos of furniture, as she always shows some cubbied/multi-drawered treasure that's right up my alley!
The adorable spring purse is from Trisha at
Easily Amused, Hard to Offend
: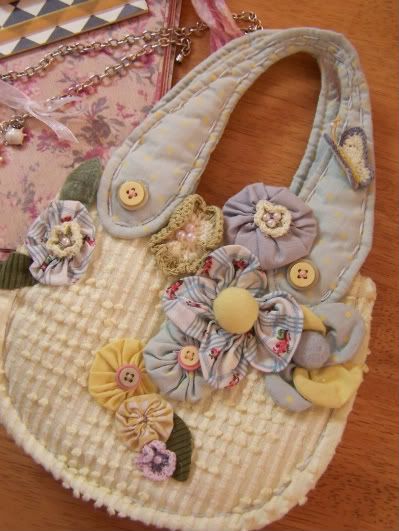 Check out her
paper rose tutorial
- I love blogs that share how-to's!
My beautiful spring necklace is from Lemondrop Marie at
Lemondrop Vintage
: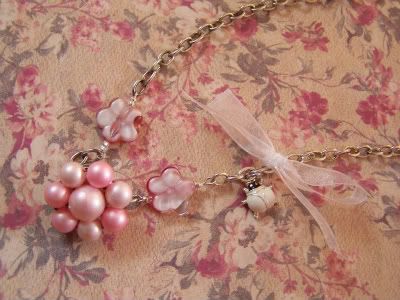 Miss Marie is a fashionista of vintage style and makes me dream of
dressing like Penelope
... she mixes and manages to make not-always-matching look perfectly-put-together! Repurposed beads and baubles with an organza bow have adorned my neck multiple times already since February!
Dear Daughter has tried to steal my skull and crossbones corker bow made by Jenn at
Miss Mae Boutique
: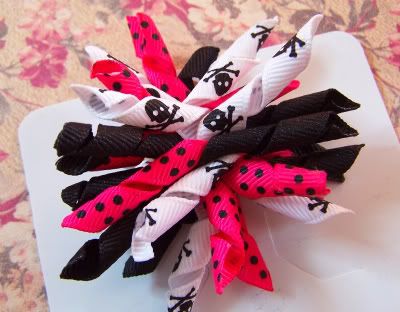 While I LOVE hair pretties (I have quite the mane that requires mondo-taming!), I'm also a fan of Jenn's
ribbon/bow cupcake toppers
- so cute!
The BEST smelling and feeling "body butter bar" came from
Grandma Betty's
, and included with my vanilla scented bar was a *bonus treat* of stamped muslin ribbon and string from
Country Lady at Homespun Alley
: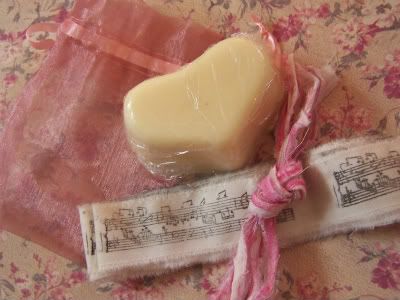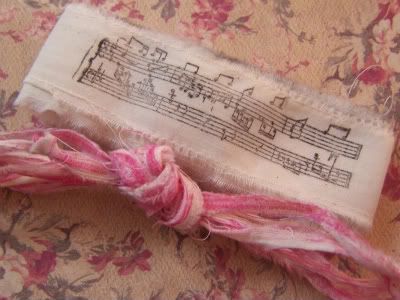 Finding new studios and artisans to follow is one of my favorite things about One World One Heart! Add to that the opportunity to make new friends ~globally~, and you can see why the event has grown larger each year since
Lisa Swifka
first created it four years ago.
One of my new global friends is Pauline, "
Polinka
" from France who crafted perfectly pink coasters from repurposed cardboard and paper: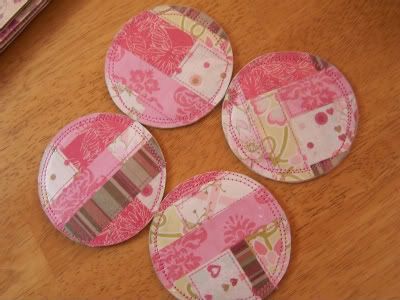 And mes amis, Polinka even shares a
tutorial on how to make coasters
for yourself, translated in English. MERCI!
One World One Heart = Friendship, handmade goodness, and the creative spirit.
Bliss.