Kiri8 at Elbows, Knees, Dreams
tagged me for a wonderful meme: Teacher Talents, those additional duties that never quite earn mention on job applications, resumes, or teacher evaluation forms.
What can I do?
~ I can get away with violence in the classroom: dropping eggs with Humpty Dumpty-esque faces drawn on to demonstrate how gravity works...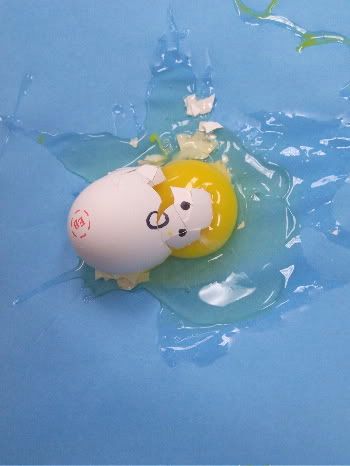 ~ I can make the big rules easy to comprehend: lowercase g, j, p, q, y are the only ones that can go "swimming" below the bottom writing line... A, E, I, O, and U are the "glue" that stick between consonants to help make words... asking for help is a sign of brilliance... and telling me when a classmate is trying to drink glue or clean teeth with scissors does NOT fall under the category of "tattling."
~ While some teachers make parents' blood pressure shoot sky high by note, e-mail, phone call or conference, I can make parents cry (sometimes sob) with joy when I show them how far their children have come since the beginning of school.
~ I can get away with blaming fairies for everything: the Hiccup Fairy, the Untie-the-Shoelaces Fairy, and the Desk Fairy are regulars in my classroom.
~ I help parents, colleagues, and other professionals remember that five and six year olds are NOT short third graders.
~ I can straighten a line of students with a single raised eyebrow, start and stop said line's movement with a nod, and make nineteen students beam with pride with a silent thumbs-up.
~ I am a fashion trend-setter: pink fingernail polish with glitter is a *must*, my socks can have all sorts of pictures and illustrations on them, and my lapels, neckline, wrists and earlobes have no problem sporting apples, pumpkins, Christmas trees, valentine hearts, shamrocks, and of course, STARS year 'round. Don't try this at home folks, I'm a professional!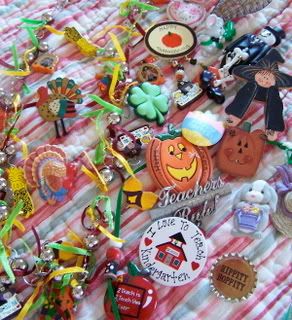 ~ I know that twirly skirts and dresses are the prettiest and watches with flip-up cases totally rock...
~ I'm kind enough to NOT let parents know everything their children reveal about them, no matter how humorous and tempting...
~ I can escort a ready-to-barf student to the nurse's office holding a trashcan in one hand, paper towels in the other while walking backward (occasionally wearing sandals or flip flops) without crashing into walls, teachers, or other students in the hallway. ("If you get it in the trashcan, you get two points Honey!")
~ I can help parents make some difficult, stressful, yet appropriate decisions by focusing on the positive: It's not "retaining" a child, it's giving him or her the
gift of time
.
~ I can teach children to master swinging (pump your legs back and forth), getting a piece of tape off of the dispenser (lift up, pull out a little, then pull down), and blowing their own noses (get a Kleenex *not your shirt*, close your mouth, blow through your nose, catch the snot in the tissue, pinch your nose, and wipe up the rest) without losing my patience or my appetite for lunch.
Readers, what are some of your rarely-if-ever-mentioned skills, mastered as a teacher? Please share them in the comments, or pass the meme along and link back here so we can come read your list and applaud your expertise!