Today was full of back-to-school shopping for Dear Daughter at Target and Office Depot,
cute-bright-and-matchy
apparently being her theme!
Target's dollar bins often turn up some goodies, and today was no different. While DD chose teen-themed pencils for school, I was thrilled to find buttons, pencils, erasers, magnets, mini notebooks, stickers and bags featuring some of Dr. Seuss' most wonderful characters (Read Across America takes place in March!):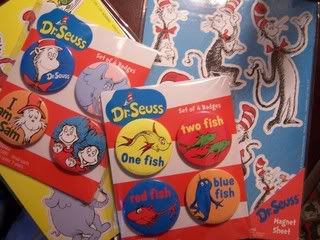 *****
Check out your grocery store crackers/snack aisle and see if you can find these (I can't wait to use them for snacktime!):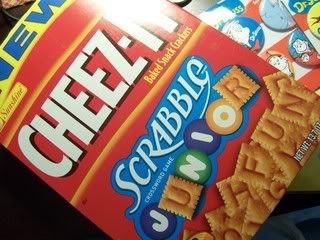 *****
Snacks for children/students are one thing, snacks for grownups, quite another:
~ Baking Bites shares
Dulce de Leche Brownies
~ My dear friend Karen once read my cards for me, years ago, identifying my animal totems. My "inner character and spirit" was a hummingbird. When CakeSpy's
Primer on the Hummingbird Cake
scrolled onto my read feed, I was intrigued (do you use real hummingbirds? Ew!)...thankfully, the cake is so named because it is" s
o sweet that people are drawn to it like hummingbirds to nectar
." Whew.
~ Bakeralla
shares a basic chocolate chip cookie recipe
, and then turns up the temptation by adding ice cream and sprinkles....
~ Tiramisu Squares... Oh yes, the Super Star Mom or Dad that brings
Sweet Paul's Tiramisu Squares
to school this year will clearly be in the running for Volunteer of the Year!
*****
Is it too early to start my 40th Birthday Wish List? Here's a start:
~ The Long Thread offers a
wonderful tutorial for making Miss Little Red Riding Hood
(no, I don't want the tutorial, I want the doll!)...
~ Saucy made
affordable and sweet Hello Kitty BLING
('d love a bracelet!)...
~
This quilt
by Frazzy Dazzles (you can SOOOOOO tell I'm a kindergarten teacher!)
~ And of course, birthday dinner at
Simon and Seafort's
in Anchorage, Alaska!