I've been cluttering up spaces to de-clutter them.
I excavate the essentials from my desks at home and work weekly, preventing their permanent burial. I then sort and organize the rest of the rubble, get it all redistributed and put where it belongs for the long term...student cubbies for home delivery, file folders for portfolios, my inspiration binders for...ahem...
inspiration
, and now, thanks to the gift of an old bedroom set past its prime, all of my craft supplies are awaiting my next creative burst of energy, organized into my very own work area.
Downstairs, I pulled all the furniture away, swept, vacuumed, re-arranged, bruised my shins, scraped my arms, shuffled donations into a corner and keepers into their new homes, alarming the cat in the process. I pulled and slid a dresser behind the futon, a short armoire against the not-nearly-used-enough treadmill, and a nightstand against the end of a folding table. I found two small framed corkboards that will get drilled into the side and door of the armoire (oh yes they will!), and then I vacuumed again. Dear Husband helped me haul my tubs of paper, glue, chipboard, embellishments, stickers, cutters, paper punches, wreath forms, fabric, felt, ribbon and tulle from their upstairs home to their new downstairs place of honor.
My creative construction zone. My banner and wreath table. Land of the Hot Glue Gun and Deckle Scissors. The preschooler still has his play area downstairs, and guests still have the futon and t.v., but now I have a crafting nook, all for myself, that won't take over our living room floor or dining room table. No more picking up dried glue-y strings from the carpet, no more bent banners thanks to the preschooler running through them. The shelves I've wanted to use as a pantry can now be filled with cans, bags, and baking essentials...just in time...now that all of my craft supplies are out of the kitchen.
I like things organized. I like things stored logically and efficiently, prettily even, if I can work it. As I type, I'm amazed at the sudden leg room I have under my computer desk. Pardon me while I stretch- now that I'm not bumping or kicking paper storage bins and ribbon boxes, this seat has become much more comfortable. I'll finish transforming this into my correspondence desk this morning, and tweaking my craft table downstairs during the preschooler's nap time. Now that Dear Daughter is feeling better, perhaps I'll even work a bit ahead on ironing and laundry so I can free up time in the evenings and next weekend...
...to make a creative mess!
*****
Someday...someday... I will have my "dream craft room." Until then, here are some peeks from Flickr: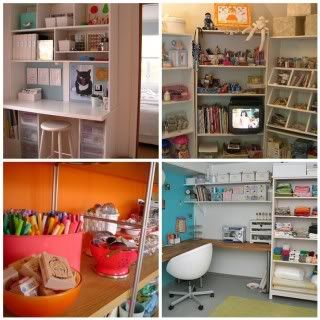 1.
My crafts space
, 2.
New Shelves in Craft Room!
, 3.
Craft Room
, 4.
New craft studio - WIP
*****
Though if
ScrapboxUSA
wanted to send me one of these to adopt and use, I'd be more than happy to sing their/its praises and write up a great review for them! Oh Santa...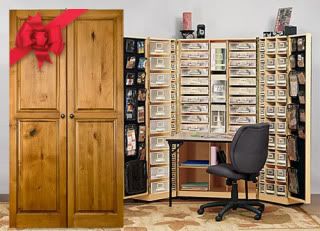 Talk about *perfect* for the highly mobile military crafting family!
(This is the
Knotty Alder Raised Panel Workbox
though the Vanilla Beadboard is gorgeous too!)