My students enjoyed Pumpkin Math this week, comparing sizes of donated pumpkins, measuring them with rulers, yard sticks and measuring tape, and estimating the number of seeds in each. Parent volunteers guided each student through the activity, supervised the "gut removal," and of course, carved faces into the pumpkins that had the thinnest and least-blade-resistant rinds. The Stars then helped me move the jack-o-lanterns over to our calendar area, arranging them so we could tuck orange twinkle lights inside for a display that will hopefully not rot before Friday afternoon!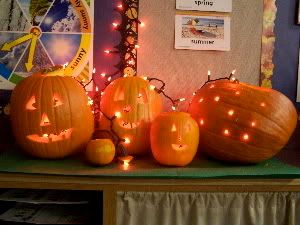 Parent volunteers, math, and twinkle lights...all good things!
*****
During "brain break" (rest time), fairies popped into my head... yes...fairies. So now I'm wanting to write a book. Probably *for* children, but more for teachers. Yes, teachers. Anyone know a publisher who might take a chance on a wanna-be-author kindergarten teacher?
*****
The Stars have begun working on some November classroom decor for patterning- check back this weekend for a sneak peek!
*****
Vanessa at A Fanciful Twist is all TREATS and no TRICKS with her
downloadable FREE Halloween card and envelope template
!
Think I can convince a parent volunteer to make
potato chip cookies (shared by Saucy)
for a special snack?
*****
FIVE
posts away from my 400th! Stay tuned!