The toddler has played in the water every day since his birthday last month, and has developed the uncanny ability to sense exactly when water/sprinkler toys are nearby. We were shopping at Target (hey, a
RED
logo!) this morning when all of a sudden, he started singing "Waaa-deerrrrrrrr, wa-deerrrrrrrr, waaaaaaaaaaaaa-der! Ober dare, Mommy, ober dare!"
So in to the shopping cart went the new spray-water-on-you-in-the-summer-sun-toy, where the very appreciative boy sat patiently as Dear Daughter and I looked for summer shirts and shorts on sale.
Water toys are good.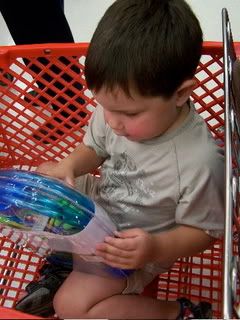 *****
Counting down to moving, I do mental inventories of what we have, how items have been used, and where collections have been displayed in preparation for relocating every single item into our new home. New floorplan, new closet space, new family areas, new hidey holes, nooks and crannies... I try to prepare for it all, especially when friends like these deserve just the right spot:
She's my Bunnies by the Bay "Dorothy."
*****
When my husband was preparing to return home from his deployment to Iraq, he promised to bring me something pretty and red. He delivered! This rug is the last thing my feet touch on the floor before bedtime, and the first thing they touch when I start my morning: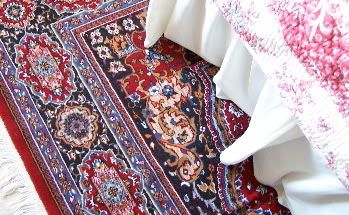 *****
Remember...

*****
Thank you Sara for hosting
I really enjoyed visiting the participants' blogs each day~ AMAZING!