Here's today's to-do list (with thanks to Dianne J. Hook, artist of Baxter Bear for Carson-Dellosa Publishing):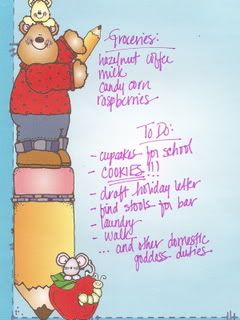 Daughter needs cake for a junior high cake walk- she's taking cupcakes,
turkey cupcakes
, which explains the candy-corn-after-Halloween on the list...

Anyone who knows me *knows* I'm a cookie person, so I didn't have to add chocolate chips to the grocery list since I already have them, but here is the latest chocolate chip cookie recipe I'm eager to try, from
Smitten Kitchen
! Go, go, go to her site. Look, look, look at those cookies! Now wipe the drool off of your keyboard, check your pantry, and let's start baking! (Isn't her food photography GREAT?)
The toddler's daily afternoon nap gives me the opportunity to 1) quickly clean house, 2) answer email, 3) finish those other "domestic goddess" duties and 4) meander through new blogs I've found. Cookies will be a nice treat as I read through
Indigo Blue's
archive, especially her "Wellness Wednesday" entries, and find some Christmas photocard inspiration at
Wendy's Way
before I write the first draft of our family's holiday letter, an annual addition to our Christmas card mailing.
New to the joys of the BBC (thanks dear toddler for your interest in Postman Pat), but an old fan of Dr. Who, Torchwood has become one of my newest fave shows to record on the dvr. Imagine my surprise when I found
THIS
"Torchwood" instead of this one!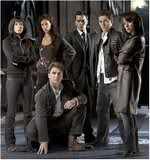 Just means more reading instead of watching, which isn't a terrible thing.
Tomorrow's to-do list can wait until...tomorrow.